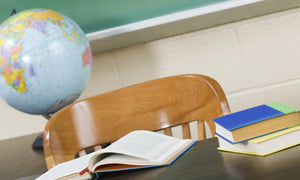 "A teacher takes a hand, opens a mind, and touches a heart."
May 9 is Teacher Appreciation Day. Who sparked your love of learning, inspired you and built your self-confidence?
I love teaching when:
The light bulb goes on and they finally get what you have been teaching. — Cheryl, middle school band teacher for 22 years.
My favorite teacher was:
Mrs. LaPlante, my French teacher. I don't remember a lick of French, but I remember how much fun I had in her class! We had a small class and she made a point of getting everyone involved and made us feel like we all mattered. — Helen
Mr. Bierer, my public speaking professor. He saw potential in me I certainly didn't see in myself. He gave me confidence. — Cindy
Mrs. Galle taught theater and English at my high school. She introduced us to a wide range of books, helped us explore our interests in research papers and was always willing to have an extra chat about life/philosophy/ethics/books outside of regular class time. When she had a free class space, she'd let students come for a quiet place. We played "Rabbit Rabbit" and she always read Edgar Allen Poe on Halloween. — Rachel
Mrs. Brillant, my 4th grade teacher. She made learning a fun experience. We had competitions around the Weekly Reader (I won a lot and she encouraged that), bicentennial activities, eclipse activities, and more. She made reading fun. I'd had challenges in school the previous year. When I think of Mrs. Brillant, I always feel happy and relieved. I wonder what that year would have been like without her as my teacher...I'm very fortunate! — Lisa
Dr. Amend—everyone called him "Prof A"—taught science at my high school. Senior year, I took Bio Chem and also Human Ecology half the year, which were both taught by him. He was such a character and so inspiring. He'd eat stuff like hummis and sprout sandwiches and preach about health food in between the subject matter at hand. On the first day of Bio Chem, he handed out poster-sized, four-page flow charts with tiny print and arrows and such showing all the chemical stuff that goes on in our bodies. All the students started looking through it with their mouths dropping open. I remember him saying to everyone "before you run to guidance and drop the class, it's not as bad as it looks". So we stayed, and yeah, it was bad. But he was such a great teacher that it was worth the torture. — Bob
My favorite teacher is actually my son's favorite teacher. Mrs. A's first-grade class is well structured and she has high expectations for her students. She can be stern, but she's fair.  He was held accountable for his behavior. He was praised and rewarded when he did well. The most important thing she gave him was RESPECT—and it was mutual. He's had many good teachers since Mrs. A, but she put him on the right path. — Luci
10% of the net proceeds from I'm a teacher magnet are donated to provide backpacks and school supplies to low-income kids.
Share a story about your favorite teacher. And, if you're a teacher, what you love best about teaching.
---