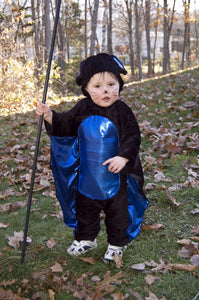 Beauty may be in the eye of the beholder, but joy is in the heart
I figure that because my mom and sisters are amazing seamstresses, I must be too. It's in my genes. I grew up watching them sew and I took home economics in sixth grade. Sewing prowess isn't reallly hereditary and my son wore a sad bat costume one Halloween. I made my own pattern so it barely fit, the seams were crooked, the hat was a mess and it wasn't what I envisioned. The next year I called on Mom. Many of my seams are still crooked, but I keep sewing.
We may have natural talent, we may have earned skill, we may have acquired knowledge. And we may not. But if it's something we enjoy and want to do, it's important we do it.

My kids often say, "Mom you CAN sing. But you shouldn't." I sing louder. When I took my 8-year-old daughter skating for her first time, she watched me wobble across the ice, spin clumsily and slowly weave backwards for a few feet. "Wow, you skate really well! I hope I can learn to skate like that." Winter Olympics, here I come.
We've all heard bands that make us cringe and seen art that has left us puzzled. Those creators are expressing themselves in their own unique way and are having fun. They share themselves and their passions with us. Even if we don't like it, we applaud their enthusiasm and bravery.
Sometimes the more you do something, the better you get. And sometimes you don't. It doesn't matter. If you love it, embrace and own it. Your spirit will show through. And maybe you'll inspire others to try it too.
---
1 comment