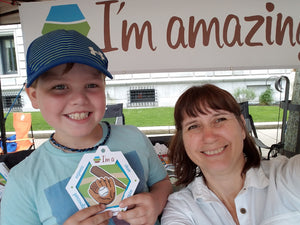 First event
Worked like crazy to get ready for the Old Port Festival on Sunday. Packaged 100 of each magnet and loaded some additional unpackaged magnets. Having no idea what kind of sales I would have, I decided to over prepare. Logically I knew I had too much inventory, but if it only required the time to load the car, what the heck. It reduced my stress. And wouldn't it be grand...
Arrived, unloaded and learned that our group of crafters was on an offshoot street. We say about 1/10th of the traffic as other areas. No one had good sales. At least I was toward the busier end of the street. I felt really bad for the people at the far end.
My first sale of the day was a 8 yo who loves baseball and got a magnet for his school locker. Fortunately some friends stopped by and I made a few sales with them. I covered my hard costs, but not much more.  I handed out a bunch of bookmarks and cards. 
I did learn somethings about my booth setup and how to market my wares. I will make those changes for Bath Heritage Days.
Less clutter/magnets on the whiteboard. I think it was a sea of color. Promote 6–8 and let customers explore the rest.

Better signage

Add product and use front and center.

Improve display of value statement (I had a small sign)

Promote the "enter to win $25 gift cert".

Encourage people to write in what makes them amazing

Create another rack/table display for magnets. 
With some changes, hopefully a better venue and some luck, I'll have a more profitable experience next time.
I have also decided to buy a table at a local barn sale on June 25. $25 and it's 2 miles up the road. 5 sales will cover my hard costs.
---