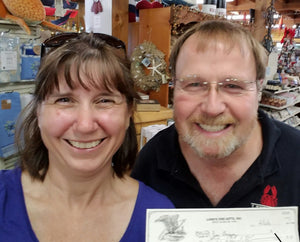 First wholesale sale
My mentor, K, recommended I visit some of the local businesses and ask them to carry my product. Although my margins are pretty low for wholesale, I know it's smart to get a few accounts for the exposure.
Being a coastal community, we get a lot of tourists enjoying out scenic views. I selected a couple places in which I had themes that were inline with their customer base.
I wasn't expecting anyone to make a purchase right then. I figured a manager or owner would be unavailable, busy, want to think about it, or they're not taking on new product right now. I thought I would simply drop off a sample and business card and wait for a call or email. I carried a full set in my car and included 6 each of the Maine-themed, just in case. 
The first place I stopped was H2Outfitters (h2outfitters.com). They provide kayaking and paddle boarding lessons and rentals, day trips, longer tours and even a kid's summer camp. I know the owner, Kathy, through a "Girl's Night Out" weekly event they had a couple years ago. Unfortunately, she was guiding a tour up to Vinylhaven all week. I spoke with Jeff for a bit (someday I will get out to Eagle Island SP), left the kayaking sample and continued on my way.
Land's End Gift is just where you would expect. At the end of the land. (landsendgifts.com) They have been there since 1959. One year a hurricane washed the building away and they had to rebuild. It's a beautiful spot and the store if filled with Maine-focused goods and homemade fudge. I walked in and asked to speak with a manager. Howard kindly led me to a quiet location. I introduced myself, using my local status and showed off my magnets: lobster, moose, lighthouse and US flag. He was very complimentary and asked a few questions:
Where else are you selling them? (this would be my first wholesale)

Where are they made? (I need to add Made in Maine to the packaging)

Will they stick thru the packaging (they do). His experience is that people don't get that an item is magnetic, even if it says magnet, unless they are sticking to metal. I also got a glimpse of that at the Old Port Festival too.

How are you selling them, such as prepacks? (I'm new to this and want to be flexible. You tell me what you want and I'll provide it.)

I let him know I don't have barcodes yet and he was ok with that. He often stickers over manufacturer's codes with his own price labels anyway.
We looked on my website so he could see the other designs. He settled on the four I had brought in, "I'll take 12 of each." I only had 6 of each with me so he took those on the spot. Since I'm local, it's easy enough to pop over with restock.
Do you have an invoice with your address, etc. so I can set you up in my system? Oops. How would you like to get paid? Ummm, credit card or check, whatever is best for you? I did figure out how to create a tax-exempt customer account and send him an invoice. I simply entered a discount for the wholesale price. I'll have to figure if I can enter wholesale product without duplicating inventory.
I was very lucky to have such a nice and patient man to take a chance on me. He even let me take a selfie.
Thanks Howard.
---
1 comment