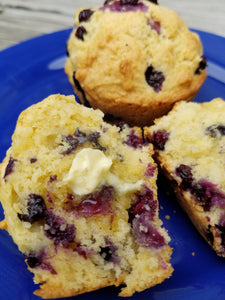 I'm amazing Blueberry Muffins
I'm amazing Blueberry Muffins
2 cups flour
1 cup mix of white and brown sugar
2 tsp baking powder
1/2 tsp salt
1 tsp cinnamon
1/3 cup melted butter
1 egg
3/4 cup milk
1 cup blueberries (ideally wild Maine blueberries)

Preheat oven to 400° F (200°C). Grease muffin tin with butter or shortening or use liners.

Combine dry ingredients (except blueberries); stir in liquid. Add 1–2 tablespoons of milk if needed to make batter smooth. Fold in blueberries.

Fill muffin cups evenly.

Crumble topping, if desired
1/2 cup mix of white and brown sugar
1/3 cup flour
1/4 cup softened butter
1 1/2 tsp cinnamon

Mix with fork and sprinkle over muffin batter.

Bake 22–25 minutes until springy and done.
---