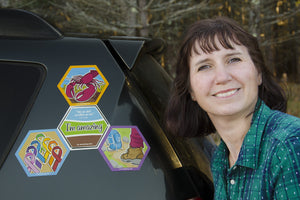 Success is achieved and maintained by those who try and keep trying.—W. Clement Stone
"What ONE unique aspect will make you succeed over the next year?" This was the first question I needed to answer on the application for the American Small Business Championship and SCORE Awards contest.
Like those essay questions from high school English, it seemed simple on the surface. But when you start writing the answer, you realize it requires quite a bit of thought and analysis. I knew our vision statement and value proposition, our features and benefits, our product and our story, but what should I answer? It needed to be concise, clear and creative and also had to spark the judges interest.
You very quickly learn when building a business, that you have to do at least 20 different jobs. Many are not in your skill set, but you tackle them anyway, do your best, make mistakes, learn and grow.
I answered the question, edited it, got feedback and edited it more. Now I can think of many ways I could have made it better, but that's water under the bridge. I tried and if they choose other amazing Maine businesses, that's ok. There's always next year.
---
1 comment