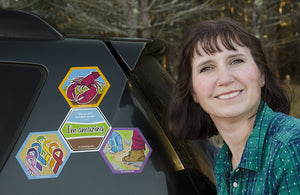 Go for it. The worst thing you can get is experience.
Early November, my SCORE mentor shared an event from a local business development group with me. They were going to have a pitch contest to win a grant for marketing. The rules were simple: less than 5 employees, revenue less then $250k a year and request less than $400. They had $800 to distribute among a few applicants. For our region, it was a live pitch at the local library. She encouraged me to give it a try. 
Knowing I needed to pay for some marketing—free Facebook and Instrgram post will only get me so far—I decided this would be a good catalyst to get me moving. I learned about it late, so only had a few days to apply and pitch date was the next Tuesday. Perfect. A short deadline is the procrastinator's friend.
It's the holiday season, so it made sense to hit the gift market. I would concentrate my impromptu marketing plan around that.
Harpswell has a small, free local paper. I had asked if they would do an interview for a new local business. Their policy is only if you place an ad. Keeping it fair. I followed up and got pricing and specs for an ad. I was told that as a local a business I could also get a free 300-word press release and photo. They distribute to every household in Harpswell plus place stacks at select locations in the surrounding towns. I'm sure many people have seen our cars covered in magentic personalities and now they could learn the story behind them. 2 column x 2"  (~4"x2") ad is $80. Another $40 for color. $120 total for the ad and the press release. 
I got info on a regional paper. It has a holiday section that runs for 6 weeks in 4 regions. Their sister paper covers another 4 regions. They claim about 200,000 impressions per week in all 8 papers which could widen my net. Their 2 column x 2" (~5"x2") ad is $192 for black and white, another $180 for color, per week. Creating an attention-grabbing black and white ad would be tricky. Bright colors are part of our brand, but almost $400 for a small ad is prohibitive.
Lastly, I looked at boosting Facebook posts, primarily around the craft shows we'd be in, targeting 25–60 yo women in the 10 mile radius of the show location. $15–$20 is 800–1200 impressions. An affordable experiment.
I spent some time refining my pitch, outlined my request and rehearsed. I went for the full $400, which is actually a budget of over $500 because I have to contribute some cash too. $120 for local paper 1, $192 for regional paper (option for 2 weeks if the metrics were positive) and $100 for Facebook. 
Tuesday arrived. I would be presenting to the organizer along with the award committee comprised of 4 local leaders. Everyone was very friendly and upon the intial introduction I realized that I hadn't included anything about myself in my pitch. Fortunately I know my background pretty well and was able to wing it. They asked many questions and we surpassed the 20 minute window. Some were easy to answer and others a bit more challenging. What will your next product be? Where do you see the company in 3 years? I'm still figuring out where it will realistically be in 1 year.
When I started, I looked at this as an opportunity to continue to refine my message, a catalyst to detail a few marketing tactics and practice my pitch. Also, it was very helpful to be asked some questions that I couldn't quite answer. It was a very positive experience. Recieving a grant would be a welcome bonus.
On Wednesday, an email arrived informing me I was selected as a winner! I would receive $100 grant for Facebook marketing because "they felt that would give you the best bang for your grant buck." It is a great boost to my self-confidence and very motivating to have local business leaders put faith in me and my idea.
I decided to move ahead with local ad and press release on my own dollar. My mentor offered to draft the press release, which was great, and told me I should include my own face in the press releaese–not so great. I did manage to get an acceptable photo after a few tries. I refined the press release, got some feedback from a writer and we were good to go. I needed to supply a photo and some messaging for the grant too—perfect timing!
Now I'm boosting some posts with mixed results. I have received some exposure with a couple thousand impressions so far, received a few post and page likes and someone at a craft fair even mentioned she saw my post. Small steps forward are still steps forward.
---